Brexit
Northern Ireland GCSE: Thousands of Northern Ireland students to receive results
There has been a significant rise in the number of top GCSE grades in Northern Ireland.Grades A*-A were awarded to 37.1% of entries, up from just under a third of entries in 2019.Almost nine in every 10 (89.4%) entries were awarded A* to C grades, up from 82.2% in 2019.A body representing some school leaders…
Northern Ireland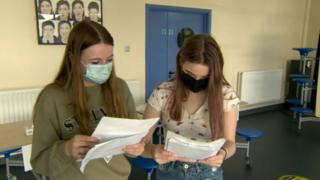 There has been a significant rise in the number of top GCSE grades in Northern Ireland.
Grades A*-A were awarded to 37.1% of entries, up from just under a third of entries in 2019.
Almost nine in every 10 (89.4%) entries were awarded A* to C grades, up from 82.2% in 2019.
A body representing some school leaders has called for an immediate independent review of the process for awarding exam grades this year.
The GCSE results have been issued just days after the Education Minister Peter Weir said they would be solely based on grades provided by schools.
Mr Weir also made a similar decision on A-Level and AS grades which had already been awarded to students.
Revised A-Level and AS grades will now be made available to affected pupils on Friday.
Northern Ireland 'Not disadvantaged'
However, many pupils in Northern Ireland who were expecting to get BTec results on Thursday will not receive them.
On Wednesday evening, exam board Pearson announced it would re-grade BTecs in line with GCSEs and A-levels and told schools not to release the results they had been sent.
On Thursday, the chief executive of the South Regional College said Northern Ireland's six regional colleges will reserve places for students who have already applied.
Brian Doran told BBC News NI it was "extremely disappointing that Pearson have come out at the 11th hour to make this decision", but said the colleges will take steps today to ensure students are "not disadvantaged".
"Our focus rightly so is on the student who is affected by this," he continued.
"These students have already gone through a very difficult time, they're extremely anxious and this just simply adds to that particular problem.
"The delay for the BTec students and their progression into college will be addressed."
Heather McKee, a director at South-Eastern Regional College (SERC), confirmed it will also be reserving places for students who have already applied.
"In addition, the college's application processes will remain open to allow other young people to submit applications for courses whilst awaiting their results, which they can confirm when they receive their grades," she said.
"We feel desperately sorry for the students affected in a year when they have already undergone far too much disruption and hope that Pearson will act to issue revised grades within days."
Northern Ireland Top grades
At GCSE, almost one in every five entries (19.6%) from grammar schools was awarded an A* grade, up from 13.3% in 2019.
More than half of entries (53.9%) from grammar schools were awarded A*-A grades.
That compared to 17.7% in non-grammar schools.
Almost twice as many entries from girls achieved the top A* grade as those from boys.
Just under 9% of entries from boys achieved A* compared to 15.7% of entries from girls.
In languages, there were further decreases in the number of pupils studying French but entries in Spanish and German rose in 2020.
The GCSE data provided by the Northern Ireland exams board CCEA does not include results for the relatively small number of students who take GCSEs through English and Welsh exam boards.
Those pupils will also receive results on Thursday, although aabout 98% of GCSEs in Northern Ireland are taken through CCEA.
The Association of School and College Leaders (ASCL) congratulated pupils but said an overall review was needed into the process for awarding grades in 2020.
"We are supportive of the decision not to rely on a statistical model for moderating grades which would have produced far too many anomalous results," Robert Wilson of ASCL said.
"However, it is imperative that we now understand what went wrong and why we have ended up in this situation."
"We will be writing to the minister for education to ask him to commission an immediate independent review of the process for awarding grades to GCSE, AS and A-level students in Northern Ireland this year."
Northern Ireland 'Very pleased'
Nicole, a GCSE pupil at Carrickfergus Academy, said she was delighted with her results and will now progress to A-level subjects in English, science and art.
Real Life. Real News. Real Voices
Help us tell more of the stories that matter
Become a founding member
She was awarded an A*, two As, two Bs a C* and a C in Thursday's results.
Fellow Carrick Academy student Oliver said he was "very pleased" after attaining 5As, two Bs, a C* and a C.
The school's principal, Dr Paula Downing, said it had been a "very frustrating week", but it was "much more positive than last Thursday morning" when the standardised AS and A-level results were published.
"There were a lot of results that we found very difficult to account for and explain," she told BBC Breakfast.
"It left a lot of our students feeling very disappointed not knowing what the outcomes would be for them."
She said around a third of the Academy's pupils are still waiting on results to be fully confirmed due to the delay with BTec grading, however, she said predicted teacher results "allow them to make decisions".
Subscribe to the newsletter news
We hate SPAM and promise to keep your email address safe