Brexit
Northern Ireland Coronavirus: NI Executive to discuss plan for easing lockdown
Image copyright Pacemaker There is "no headroom" to lift any Covid-19 lockdown restrictions in NI yet, the first and deputy first ministers have said.It had been hoped the executive would publish a recovery plan on Thursday.Michelle O'Neill later tweeted the Executive had agreed to extend restrictions for three more weeks.She and Arlene Foster also recommended…
Northern Ireland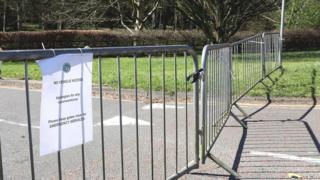 There is "no headroom" to lift any Covid-19 lockdown restrictions in NI yet, the first and deputy first ministers have said.
It had been hoped the executive would publish a recovery plan on Thursday.
Michelle O'Neill later tweeted the Executive had agreed to extend restrictions for three more weeks.
She and Arlene Foster also recommended face coverings be worn in enclosed spaces, if social distancing was not possible.
"The best way" to honour World War Two veterans and VE Day on Friday was to stay home, added Mrs Foster, the first minister.
Northern Ireland 'Face coverings recommended'
Executive ministers met for more than three hours on Thursday, ahead of a call between the PM and leaders of the devolved institutions.
They agreed to recommend that people in Northern Ireland should now wear face coverings when they were in enclosed spaces for short periods of time, where social distancing is not possible.
The decision was taken in line with scientific advice, Mrs Foster told the Executive's daily press conference.
Health Minister Robin Swann later said that while evidence on the overall protection provided by face coverings "is not conclusive, on balance it is sufficient to recommend that members of the public consider using them in particular circumstances".
"In practice, these circumstances will largely relate to public transport and retail environments," he added.
"Their use will not be mandatory. Crucially, face coverings must not lead to any false sense of security about the level of protection provided."
On Sunday night, Boris Johnson will set out his own plan aimed at beginning to ease the UK lockdown.
The Executive had to review its coronavirus legislation by Saturday, and will not make any changes to it at this stage.
The regulations initially took effect in Northern Ireland on 28 March, and have already been extended once.
Ms O'Neill, who had previously said she wanted a recovery plan published on Thursday, said she recognised "many people will be disappointed".
"Every decision we will make will have an impact, we're in a precarious situation and we're not in a position today where we're able to relax anything at this time."
The deputy first minister outlined specific criteria that must be met before the lockdown can be eased:
The transmission of the virus is "under control"
The health service can cope with admissions and controlling cases
A full "test, trace and isolate" policy is up and running
Ministers will consider making a "minor number of changes" to the legislation next week, added Mrs Foster.
Northern Ireland, Scotland and Wales have the power to diverge from what the government at Westminster decides on the lockdown – and could lift restrictions at a different rate.
Earlier, Scotland's First Minister, Nicola Sturgeon, has said her preference was for the four parts of the UK to move together, but said any decisions "must be taken with great care".
It comes as four more deaths of people with coronavirus have been confirmed in Northern Ireland, bringing the total to 422. The Department of Health figures relate mostly to hospital deaths and are likely to increase.
In other developments on Thursday:
A number of Stormont ministers have said they do not support placing projected dates on phases of lifting lockdown restrictions in Northern Ireland, in case certain measures need to be re-imposed.
Real Life. Real News. Real Voices
Help us tell more of the stories that matter
Become a founding member
Last week, Agriculture and Environment Minister Edwin Poots called for churches and garden centres to reopen on a controlled basis.
The executive recognises the lifting of any restrictions will not be without risk, and is concerned that if some measures are relaxed too quickly, it could lead to another surge of infections.
"We want to be clear and give reassurance, we hope in the next few days to publish that roadmap, and give you phases for the next few weeks and months," said Ms O'Neill.
Northern Ireland 'Honour WW2 veterans' by staying home
Mrs Foster added that the executive would continue its work on a recovery blueprint over the next few days, and stressed that people should not be complacent this weekend.
Ahead of the 75th anniversary of VE day on Friday, which marks the day peace emerged after World War Two, the first minister warned the public against celebrating with others.
"The best way we can honour those in World War Two who fought for freedom and won, the best way we can honour those who are fighting for us today on the health front line is to stay at home as much as possible," Mrs Foster said.
"Our world is a long way away from its VE day in the fight against coronavirus, and compared to the sacrifices asked of our parents and grandparents, what is being asked of us now is very small, but is hugely important."
On Thursday, a further four deaths related to Covid-19 in Northern Ireland were reported by the Department of Health.
It brings the department's total death toll, mostly comprised of hospital fatalities, to at least 422.
Two sets of figures are published in Northern Ireland:
A daily set produced by the Department of Health, which counts mostly hospital deaths
The weekly statistics from Nisra, which cover all fatalities where coronavirus has been recorded on the death certificate
Northern Ireland's overall death toll will be higher when all deaths in the community are recorded.
In the Republic of Ireland, it was announced on Thursday that a further 29 people with Covid-19 had died, bringing the death toll there to 1,403.
Subscribe to the newsletter news
We hate SPAM and promise to keep your email address safe