Brexit
Northern Ireland Coronavirus: NI executive received extra £912m for Covid-19 outbreak
Image copyright PA Media The Northern Ireland Executive has so far received an additional £912m to deal with the Coronavirus crisis.About 70% of that money, £639m, has already been allocated.Overnight, a man died with coronavirus at Enniskillen's South West Acute Hospital; 28 people have died with coronavirus in NI, where there are 586 confirmed cases…
Northern Ireland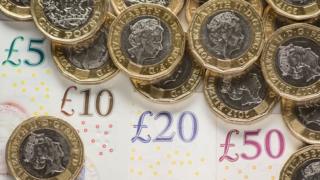 The Northern Ireland Executive has so far received an additional £912m to deal with the Coronavirus crisis.
About 70% of that money, £639m, has already been allocated.
Overnight, a man died with coronavirus at Enniskillen's South West Acute Hospital; 28 people have died with coronavirus in NI, where there are 586 confirmed cases after 5,885 tests.
Finance Minister Conor Murphy has also announced a cut in business rates and a freeze in domestic rates.
Rates are the property taxes paid by businesses and households.
On Tuesday morning, Mr Murphy delivered Stormont's budget for the 2020-21 financial year.
"Development of this budget began before the onset of Covid-19 and has been overshadowed by the unprecedented public health crisis we face," he said.
"There is no doubt that we remain in a challenging financial environment. Protecting lives and livelihoods from this pandemic is now the executive's number one priority."
The finance minister said £100m of Covid-19 funding was allocated in today's Budget to fund a three months rates holiday for all businesses.
The remaining £812m will be allocated in a separate process.
Speaking earlier on Tuesday, Mr Murphy said his department was trying to allocate funds as quickly as possible to deal with coronavirus in Northern Ireland
He added that the executive has tried to be flexible, so if money is not used by departments for tackling coronavirus issues it can be reallocated at a later date.
Northern Ireland Rates reduction will help economy
A rates bill has two parts: one set by Stormont and one set by councils.
Mr Murphy said the freeze in the Stormont portion of would "ensure no additional burden on households during the difficult and uncertain time".
He said he would cut Stormont's portion of business rates by 6p in the pound, which will save businesses £56m.
"While domestic rates are relatively low, business rates are extremely high," he told the assembly.
"I have reduced business rates by 12.5%. Combined with Reval 2020 this means an 18% reduction in rates. Although I decided to reduce business rates in advance of the Covid-19 threat, this reduction will help with the economic recovery on the other side of this pandemic.
"I am also renewing Small Business Rates Relief and the Rural ATM Scheme."
Northern Ireland Other measures included:
£37.5m for compensating victims of historical institutional abuse
£23m to mitigate the effects of welfare reform cuts
£1m to help people who were given contaminated blood
Extra money to help children with special needs
Cash for costs associated with legacy issues
Overall, the amount of cash available to Stormont departments will increase by more than 8%.
That is the biggest annual increase in more than a decade.
It includes some significant one-off allocations from the New Decade, New Approach (NDNA) deal.
It was the deal which led to the restoration of devolution in January.
Among the NDNA money allocated is £350m to deal with immediate pressures in public spending.
The Department of Finance is not publishing a detailed budget document.
It wants to give ministers time to consider their funding needs and possibly reallocate some money between departments.
It hopes to publish a detailed document in May.
Northern Ireland Infrastructure money
In the Westminster budget three weeks ago, Stormont was allocated an additional £200m.
The majority of that money, £138m, was for infrastructure spending, with the remaining £77m for day-to-day spending.
At that time Mr Murphy said the additional spending was inadequate to tackle public spending pressures in Northern Ireland.
Meanwhile, the first and deputy first ministers have been talking to ministers from the Irish government about the coronavirus crisis.
Real Life. Real News. Real Voices
Help us tell more of the stories that matter
Become a founding member
The North-South Ministerial Council meeting took place remotely as ministers adhere to social distancing guidance.
Speaking afterwards, Deputy First Minister Michelle O'Neill said the two chief medical officers would sign a memorandum of understanding this week, formalising co-ordination and co-operation between the Irish government and the NI Executive.
"The Covid-19 pandemic does not respect borders," she said.
"Co-operation and common action across our island is vital at this time.
"Protection of the lives and welfare of everyone on the island is paramount and no effort will be spared in that objective."
Northern Ireland Personal protection equipment
The finance minister has also said he will be making an announcement soon on personal protection equipment (PPE) which has been ordered from China.
Aer Lingus flights are transporting the equipment from Beijing throughout the week, with the first arriving last Sunday.
Mr Murphy said: "We know how much we've ordered, we want to secure that, we want to make sure it's on its way and we'll be able to release details of that then."
Some other countries, including Spain and the Netherlands, have reported problems with PPE imported from China.
Mr Murphy told BBC News NI he had not heard any reports of problems from Dublin about the first shipment, either in terms of quality or quantity.
Subscribe to the newsletter news
We hate SPAM and promise to keep your email address safe