Brexit
Northern Ireland MOTs: 'Limited private car testing' at DVA test centres
Image caption The BBC has obtained a picture of a crack in a lift at one of the vehicle test centres in Northern Ireland All Driver and Vehicle Agency (DVA) test centres in Northern Ireland are providing MOT tests on Friday.But there is "limited" private car testing at a number of centres, the Department for…
Northern Ireland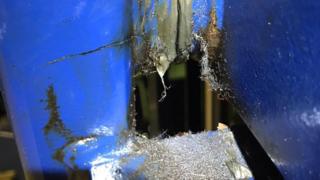 All Driver and Vehicle Agency (DVA) test centres in Northern Ireland are providing MOT tests on Friday.
But there is "limited" private car testing at a number of centres, the Department for Infrastructure has said.
An inspection of all vehicle lifts in Northern Ireland's MOT centres detected "signs of cracking" in 48 of the 55 lifts.
The department said anyone who had a test rescheduled would be refunded half of the MOT fee.
Lifts are "fully operational" at Belfast, Cookstown and Newbuildings test centres, with two out of three lifts operating in Coleraine test centre and three out of four lifts now operating in Craigavon test centre.
The Infrastructure department said there was a "rolling programme" of inspection, repair and re-inspection to all lifts being used in test centres with lanes becoming operational as this process progresses.
The remaining test centres will be inspected and any necessary repairs carried out over the coming days, the department said.
A letter to DVA staff revealing the results of the inspections said signs of cracking on lifts were first discovered during an inspection of Larne MOT centre in November 2019.
"Due to a fault identified with some of the vehicle lifts, it was necessary to take the precautionary measure to suspend the use of vehicle lifts until they had been inspected, and where necessary, repaired," a department spokesperson said.
"This meant that some test lanes have had to be closed at short notice and appointments cancelled.
"In addition to its ongoing regular monitoring programme, DVA has also introduced additional inspection processes to ensure the safety of its staff and customers."
The department spokesperson said that while "repairs are being completed the number of tests taking place on cars and light vehicles is reduced, but tests are taking place".
Martyn Boyd took his car for an MOT at Newtownards on Thursday, but when he arrived he was told "no tests were being done".
"My registration, name and phone number were recorded and I was told I would be contacted very soon with a new date," he added.
"I explained that I needed to have the test done ASAP because my certificate was about to expire and they said they would prioritise that.
"So far, I have heard nothing from them."
Mr Boyd said he and his wife require the car for transport and if they need to use taxis or hire a car then that is extra expense.
"Can we afford that? Well not really. Who's going to pay for it? Who knows?"
There were 1,891 vehicle tests conducted on Thursday across test centres and the department is "endeavouring to work to notify in advance anyone who is affected and to reschedule their appointment as soon as possible".
Those with MOT expiry dates "in the coming days" will be prioritised.
Some MOT tests due to take place this week were cancelled due to the lift issue, but the department has previously advised drivers to attend their scheduled test, unless they are contacted by the DVA.
Real Life. Real News. Real Voices
Help us tell more of the stories that matter
Become a founding member
On Wednesday, the department announced that the use of vehicle lifts at 12 MOT centres in Northern Ireland had been suspended after faults were identified.
Some motorists have criticised how the authorities have handled the issue.
The department previously said a number of test centres will open on Sunday to provide additional tests.
DUP MLA Michelle McIlveen, who is chair of the NI Assembly's Infrastructure Committee, said she had tabled an "urgent oral question" to the Infrastructure Minister Nichola Mallon about the issue.
"I hope this question will be selected by the Speaker as it will allow an opportunity on Monday for the minister to come before the Assembly and answer questions about the frustration that many people across Northern Ireland have felt," she added.
Subscribe to the newsletter news
We hate SPAM and promise to keep your email address safe