Brexit
Northern Ireland General election 2019: Polls to open in NI for Westminster election
Image copyright Getty Images People in Northern Ireland are voting in the UK's third general election in five years. Some 102 candidates are competing for the 18 Westminster seats allocated.Polling stations opened at 07:00 GMT on Thursday and will close at 22:00, with the results expected to be finalised on Friday morning.A total of 1,293,971…
Northern Ireland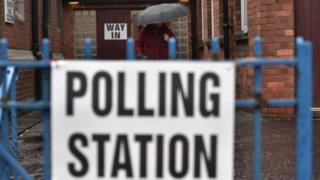 People in Northern Ireland are voting in the UK's third general election in five years.
Some 102 candidates are competing for the 18 Westminster seats allocated.
Polling stations opened at 07:00 GMT on Thursday and will close at 22:00, with the results expected to be finalised on Friday morning.
A total of 1,293,971 people are eligible to vote at 1,300 polling stations across Northern Ireland.
The Electoral Office said there has been a rise in the number of eligible voters in each of Northern Ireland's constituencies.
According to the BBC's weather forecast, it will be rainy in parts of Northern Ireland tonight with light rain expected with gentle breezes but, at four or five degrees Celsius, it will hopefully be frost free.
"Hopefully the weather will stay not too bad," said chief electoral officer Virginia McVea.
"A lot of this is about getting the ballot boxes transported to the various count centres round Northern Ireland."
The first results in the 2017 general election were known at about 01:00.
It is just over a century since there has been a general election this close to Christmas, but it doesn't appear to have effected the number of people wanting to vote.
Turnout is said to be busy in many areas, while in north Belfast a banner aimed at one of the candidates was removed from railings outside a polling station.
There are 102 candidates fighting in 18 constituencies and just over 50,000 more people are entitled to vote this time than in the last Westminster election, two and a half years ago.
The polls close at 22.00 GMT on Thursday and the first result is expected sometime after 01.00 GMT on Friday.
Elections in the UK traditionally take place every four or five years. But, in October, MPs voted for the second snap poll in as many years.
It is the first winter election since 1974 and the first to take place in December since 1923.
Across Northern Ireland many politicians have already cast their votes.
Many people have already put a cross next to the name of their favoured candidate by voting by post but it is not yet known how many have used this service before voting closes.
If you applied for a postal vote but have yet to return it to the Electoral Office, you must do so by 22:00. Alternatively, it can be handed in at your local polling station by the close of polling.
Northern Ireland Can I vote in the election?
Voters have to be aged at least 18 and on the electoral register to vote in Northern Ireland.
The deadline to register for the election has passed so anyone who has not already registered cannot take part.
Northern Ireland Do I need to bring ID to the polling station?
Voters in Northern Ireland must bring photo ID to the polling station. The polling card received through the post is for information purposes only and is not acceptable ID for voting purposes.
The following ID documents are accepted:
A UK, Irish or EEA driving licence (photographic part; provisional accepted)
A UK, Irish or EU passport
An Electoral Identity Card
A Translink Senior SmartPass
A Translink 60+ SmartPass
A Translink War Disabled SmartPass
A Translink Blind Person's SmartPass
Northern Ireland How can I follow the results?
Subscribe to the newsletter news
We hate SPAM and promise to keep your email address safe