Brexit
Northern Ireland Coronavirus: Unions plead for school closure date
Image copyright Getty Images Pregnant teachers or students should not be in schools, according to the education minister.Peter Weir said other vulnerable groups and staff should also self-isolate. Six new positive cases of coronavirus in Northern Ireland were confirmed on Wednesday, bringing the total number to 68. Teaching unions have called on Arlene Foster and…
Northern Ireland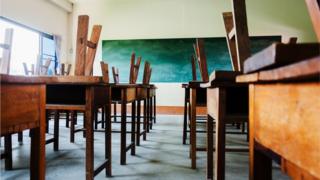 Pregnant teachers or students should not be in schools, according to the education minister.
Peter Weir said other vulnerable groups and staff should also self-isolate.
Six new positive cases of coronavirus in Northern Ireland were confirmed on Wednesday, bringing the total number to 68.
Teaching unions have called on Arlene Foster and Michelle O'Neill to set a date for school closures.
Speaking after a meeting of the Civil Contingencies Group, the first and deputy first ministers said the "whole society must be part of the effort to tackle the impact of Covid-19".
The group brings together representatives from across public services, including NI government departments, health and social care, councils, and the emergency services.
"The executive will do everything possible to bring forward measures to support and protect people," said Mrs Foster.
"But we can't do it alone; our plans and preparations will only be effective if everybody follows the public health advice and is mindful of the needs and safety of others."
Northern Ireland 'End of August'
The education minister has said Northern Ireland's schools should remain open for now.
Mr Weir added he would follow "expert clinical advice" in making any decision to close schools.
Speaking at Stormont on Wednesday, Mr Weir said he could not yet give a date when all schools would close but that when they did it was likely to be until the end of August.
He said advice for pregnant school teachers and students was "they should be self-isolating so therefore school should not be the place for them".
More than 75% of Northern Ireland's 26,000 registered teachers are women.
On Wednesday afternoon, Libraries NI said it would close all public libraries and out of hours access from 17:00 on Friday until further notice.
"With immediate effect, all mobile libraries and Homecall services have been stopped and all events in public libraries have been cancelled", the body said.
"This includes regular weekly events like Rhythm and Rhyme, Storytime, Tea and Newspapers, Knit and Natter, Library Reading Groups (all ages) and Got IT and Go On computer training sessions."
The total confirmed cases in the Republic of Ireland stands at 292, after 69 new cases were revealed on Tuesday.
Two people have died from Covid-19 in the Republic of Ireland and Taoiseach (Irish Prime Minister) Leo Varadkar has said the country would be dealing with the emergency for months to come.
Northern Ireland 'Playing catch-up'
All schools and colleges in the Republic of Ireland have been closed.
Some politicians, including Ms O'Neill, have been calling for all schools in Northern Ireland to close immediately..
Since Monday, special schools in Belfast have been closed indefinitely.
A substantial number of schools across Northern Ireland have already decided to close for the rest of this week. Some are listed on the NI Direct website.
Ulster University and Queen's University have closed all their campuses for teaching and other activities until further notice.
The Welsh government has said all schools will be closed by Friday, and the Scottish government is planning a similar move.
Economy Minister Diane Dodds said the Stormont Executive would announce new business support measures by the end of Wednesday,
Speaking on BBC Radio Ulster's programme Good Morning Ulster, she said the financial commitments announced by the UK government on Tuesday equated to about £900m.
"We now know this money is coming to us, it is a significant amount of money, and we need to be sure there is that mixture of loans at a national level, that we have the rates relief, that we have additional help for businesses," she said.
Real Life. Real News. Real Voices
Help us tell more of the stories that matter
Become a founding member
Simon Hamilton, chief executive officer at Belfast Chamber of Commerce, said more government support, including a grants scheme for businesses was needed urgently "to help protect jobs".
He said Stormont was "playing catch-up" in response to the coronavirus.
Northern Ireland 'Tea and sympathy'
Tourism NI chief John McGrillen has told the Stormont economy committee "the Northern Ireland tourism ecosystem is closing down".
He said the executive had to outline what measures it planned to put in place, and what it expected central government to put in place.
Donal Durkan, from the jobs agency Invest NI, told the committee engineering firms were shifting production towards making components for making medical ventilators.
Sinn Féin's John O'Dowd told the tourism leaders present that he was "not going to offer tea and sympathy" and the number one priority for everyone should be to stop the spread of coronavirus and to minimise the number of deaths.
Retail NI is to meet the first and deputy first ministers later on Wednesday.
In other developments:
Hospitality firm, Beannchor Group, has announced the temporary lay-off of up to 800 staff
National Trust opening many of their gardens and park for free but houses, cafes and shops to close
Presbyterian Church and Methodist Church suspend church services across the island of Ireland
Apprentice Boys of Derry pull Easter parade and all meetings and services
Sainsbury's and Asda limit sales of all food items amid stockpiling
The UK death toll has hit 71
Confirmed cases pass 200,000 worldwide and more than 8,000 people have died
The joint letter from the five teaching unions was addressed to Mr Weir as well as the first and deputy first minister.
"In the past 24 hours we have seen the closure of many public facilities in a bid to avoid gatherings and crowded spaces, everyone has been advised to work from home if they can, yet schools have been advised to remain open," they said.
Subscribe to the newsletter news
We hate SPAM and promise to keep your email address safe