Brexit
Northern Ireland Coronavirus: Second death confirmed in Republic of Ireland
Image copyright Getty Images A second death related to coronavirus has been confirmed in the Republic of Ireland.The total number of confirmed cases in the Republic is now 129, a rise of 39 in 24 hours.Five new cases have been confirmed in Northern Ireland, bringing the total number of cases to 34.It comes after the…
Northern Ireland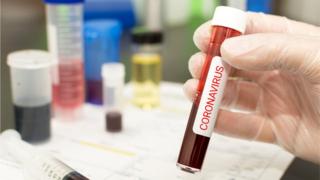 A second death related to coronavirus has been confirmed in the Republic of Ireland.
The total number of confirmed cases in the Republic is now 129, a rise of 39 in 24 hours.
Five new cases have been confirmed in Northern Ireland, bringing the total number of cases to 34.
It comes after the first community transmission cases of Covid-19 were confirmed in Northern Ireland on Friday.
Senior ministers from the NI Executive and Irish government met on Saturday to discuss the cross-border approach to tackling the virus.
Coronavirus deaths have doubled in 24 hours in the UK.
The United States has announced a ban on travel from the UK and Ireland will begin at 00:00 Eastern time on Monday (04:00 GMT on Tuesday).
The Public Health Agency (PHA) in Northern Ireland has repeated advice for people to stay at home and self-isolate if they have mild symptoms.
Testing is now being "principally provided for patients requiring hospital treatment and those with particular medical conditions".
Real Life. Real News. Real Voices
Help us tell more of the stories that matter
Become a founding member
It added that healthcare workers who have been in contact with symptomatic or confirmed cases will also require testing.
On Friday, the Health Minister Robin Swann said non-urgent health services are to be reduced in order to care for coronavirus patients.
The cancellations and postponements will be phased in over the coming days and weeks.
Mr Swann apologised to those whose appointments will be postponed or cancelled but said coronavirus was "the biggest public health challenge for at least a generation".
Northern Ireland New cases in the Republic
Among the 39 newly confirmed cases in the Republic, 29 are male and 10 are female, Irish health officials have said.
Two are located in the west of the country, three in the north west, 13 in the south and 21 in the east.
Healthcare staff are also among the cases confirmed on Saturday.
In other developments on Saturday:
Chief Pharmaceutical Officer Cathy Harrison said people should order prescriptions and take their medicines as normal, adding that there is no shortage of prescription medicine and that "stockpiling or purchasing medication that you do not need is completely unnecessary and could disadvantage other patients"
Infrastructure Minister Nichola Mallon said planning restrictions would be relaxed to allow supplies to be delivered to shops outside of authorised hours, in a move designed to allow more frequent deliveries of food and other supplies as retailers feel the strain of bulk buying
Jet2 cancelled all flights to Spain – the airline operates nine routes to the country from Belfast International Airport
EasyJet had said it will be cancelling all flights to and from Spain from Tuesday, 17 March. The airline runs seven routes to the country from Belfast International Airport
A number of passengers have been left abroad after a number of Aer Lingus flights from the Canary Islands to Dublin, Shannon and Cork airports were cancelled – the airline said it was a result of air traffic control restrictions and it was working to help its customers
Speaking to BBC News NI, one Aer Lingus passenger in Gran Canaria said her flight for Dublin, due to take off on Saturday evening, had been cancelled at the last minute.
Kathleen O'Hare, a former head teacher at Hazelwood Integrated College in Belfast, said she and her husband had travelled to the island a couple of weeks ago before the escalation of the coronavirus situation.
"At the moment I have no idea how we are going to fly, it would just be good if someone could just get us some information," she said.
"Tell us something. It doesn't take that much to put something on a website."
A spokeswoman for Aer Lingus said passengers had been notified, and the airline was "working to rebook guests on our next available services and provide hotel accommodation where necessary".
Subscribe to the newsletter news
We hate SPAM and promise to keep your email address safe