Brexit
Northern Ireland Coronavirus: Return to schools 'good day for young people'
Media playback is unsupported on your device Media captionFiona Smart, acting vice-principal at Brooklands Primary School in DundonaldAlmost all schools in Northern Ireland are opening fully to pupils for the first time since mid-March. More than 300,000 children returned to the classroom on Tuesday.Education Minister Peter Weir described it as a "good day for education…
Northern Ireland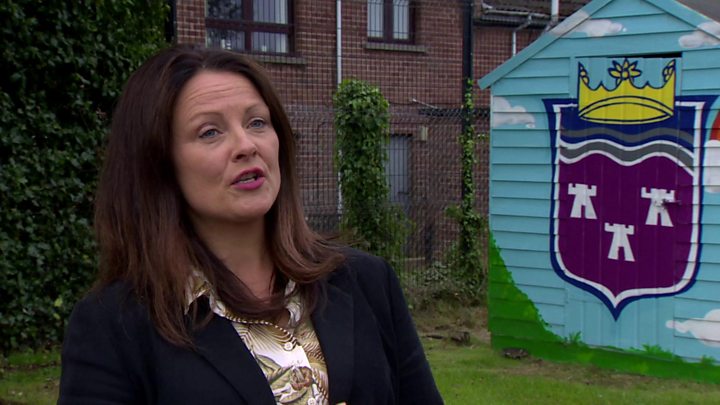 Almost all schools in Northern Ireland are opening fully to pupils for the first time since mid-March.
More than 300,000 children returned to the classroom on Tuesday.
Education Minister Peter Weir described it as a "good day for education and for all young people".
"I'm sure everything won't go perfectly but I think it's a major step forward and it's important we get our young people back into full-time education," he said.
"Obviously we will be monitoring the situation closely, but I think this is a good day for education and for all young people, that we are able to get a third of a million children back into school.
"There are bound to be some bumps in the road."
While it is the executive's priority to keep schools open, Mr Weir told Radio Ulster's Good Morning Ulster programme there would be cases of Covid-19.
"Where those happen, schools will be working closely with the Public Health Agency," he said.
"It may be their response will be different from case-to-case depending on the circumstances and, undoubtedly, there's likely to be some level of interruption in terms of education, but across the board I think we want to ensure that schools remain open."
The education minister said while he understood some parents were apprehensive, it was in children's best interests to get back to school.
"The advice that we've been given is supported by public health, by the chief medical officer, the chief scientific adviser, and the long-term impact of children missing education will be very damaging for the long-term future, so I would urge parents to send their children to school," he said.
"It is understandable parents will have their concerns, but the vast majority of parents will welcome this move and I think it's the best for children to return to full-time education.
"All the international evidence shows that children are massively less at risk of the virus than adults and the key element in this should be children should be going back to school."
Schools have introduced a number of safety measures including staggered start times, one-way systems and face coverings used by post-primary students.
"There is nothing in life which is going to be risk-free," said Mr Weir.
"Sadly we will see probably more children this year will be involved in serious accidents at home than from Covid, so it is about time to mediate and minimise risk – and school is a safe place for children to be in."
Real Life. Real News. Real Voices
Help us tell more of the stories that matter
Become a founding member
Northern Ireland 'All hands on deck'
Darren Morrin, the principal of Limavady High School, said his school and others were "doing their very best" to ensure schools were as safe as possible.
"It is not only a school responsibility, it is a community responsibility," he added.
Michael Allen, principal of Lisneal College in Londonderry, said 900 pupils would return on Tuesday.
"It's a very different school environment pupils return to compared to the one they left in March," he said.
"There will be quite a number of pupils for whom this is their first experience of the new protocols in school.
"It is all hands on deck this morning to make sure as pupils come through the door that they come through the correct door, that they sanitise and wash their hands ," he said.
Mr Allen said the pandemic had been the most challenging period of his teaching career.
"We have been trying to understand what the difficulties are and then trying to analyse and scrutinise the guidance we get while trying to implement that, whilst at the same time taking a thousand questions a day from different people where we do not have the answers," he said.
Mr Allen said he hoped "never to have a year like this again".
Subscribe to the newsletter news
We hate SPAM and promise to keep your email address safe