Brexit
Northern Ireland Coronavirus: Northern Ireland schools close over positive case
Image copyright Google Image caption Newtownhamilton Primary School and High School are both closed Two schools and three more sports clubs have closed in Northern Ireland over confirmed coronavirus cases. Newtownhamilton High School and primary school, both located on the same site in the County Armagh town, are closed after a student tested positive.West Belfast…
Northern Ireland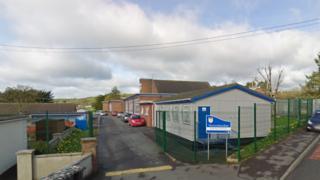 Two schools and three more sports clubs have closed in Northern Ireland over confirmed coronavirus cases.
Newtownhamilton High School and primary school, both located on the same site in the County Armagh town, are closed after a student tested positive.
West Belfast GAA club St Gall's has closed its clubhouse after a member was diagnosed.
Two amateur football clubs have also closed their grounds after a player tested positive.
Tandragee Rovers, in County Armagh, said a senior player had been diagnosed with the virus.
County Down-based club Moneyslane, who hosted Tandragee in a match on Saturday, have also closed their Jubilee Park ground.
The two football clubs and St Gall's have suspended training and participation in matches.
It now means five football amateur football clubs have been affected by the coronavirus, after a player with Portadown-based club Hanover FC tested positive.
The other clubs affected are Coagh United, in County Tyrone, and Crewe United, from Glenavy in County Antrim.
In other coronavirus developments:
St Patrick's Day parades in Belfast and across the Republic of Ireland have been cancelled
Manufacturing firm Sensata carried out a precautionary deep clean at one of its NI sites
Health Minister Robin Swann says "very worst case scenario" projections put infection rates at between 50 to 80% of the NI's population
First Minster Arlene Foster said the UK should maintain a "common sense approach" to the virus
Three new cases of coronavirus were confirmed in the Republic of Ireland, bringing the total number of cases there up to 24
France and Ireland's Six Nations fixture, planned for this weekend, has been postponed
Northern Ireland 'No public health risk' at schools
The principal of Newtownhamilton High School, Neil Megaw, said the schools had closed for the rest of the week as a precautionary measure.
"The PHA has advised us that the risk to pupils and staff of the school is very low," he said.
The high school is due to re-open on Monday, 16 March and the primary will re-open on Wednesday, 18 March.
Health Minister Robin Swann announced the closure of two schools without naming them in a statement to the Northern Ireland Assembly on Monday.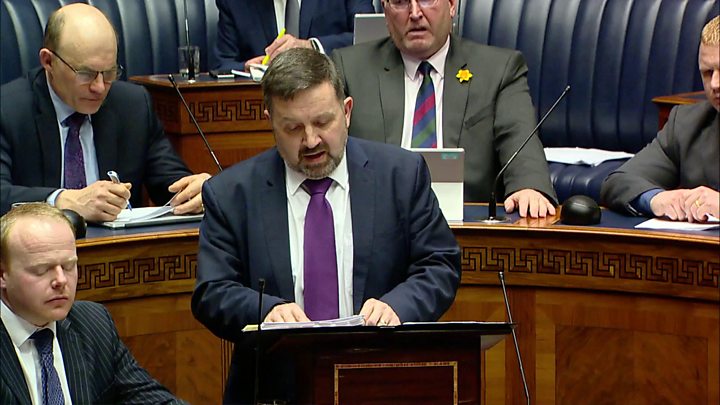 Mr Swann also said 222 tests had been carried out so far in Northern Ireland with 12 positive cases confirmed.
Speaking afterwards, the health minister said the chancellor had made it clear that additional funding would be made available to tackle coronavirus.
"We will get our part of that either through Barnett [Formula] or through need," he said.
Asked about how many people in Northern Ireland could contract coronavirus, he said: "A figure that is generally available in the public is that, moving from what could be worst case scenario to very worst case scenario, we are looking at between 50% to 80% level of infection across the general population."
Northern Ireland Sports clubs affected
Meanwhile, the club secretary for St Gall's GAA club said the club member who tested positive was last at the club on Sunday 1 March.
"He was in the bar at the club house but did not attend any matches," said Sinead Mullan.
"We've closed the club house for a deep clean and cancelled all training as a precautionary measure.
"We have a duty of care to those who attend Naomh Gall and the Public Health Agency are aware and are liaising with him."
In a statement on social media, Tandragee Rovers said a senior player had tested positive for Covid-19.
"We commend the actions of our player for self-isolating and getting tested as soon as he became aware that he had been in contact with a person who had also tested positive over the weekend."
It said the clubhouse would remain closed until it underwent its deep clean, while the Mid-Ulster Football League has been informed.
The club has also cancelled all training until Monday, 23 March and suspended its participation in matches for the next two weeks.
Moneyslane, who played Tandragee in a match last Saturday, said its Jubilee Park ground was closed and training had been suspended until further notice.
In a statement on social media, the club asked that anyone who attended the game follow public health guidelines.
However it added that anyone who attended a fundraising event at the Belmont Hotel on Saturday did not come into direct contact with the confirmed case.
Manufacturing firm Sensata also carried out a precautionary deep clean, related to Covid-19, at one of its Northern Ireland sites.
The BBC understands a family member of an employee had recently been on holiday in a high-risk country.
The firm employs around 1,000 people in Carrickfergus and Antrim. Staff in the affected area were sent home while the cleaning took place.
The firm said the clean was conducted out of an "abundance of caution" and staff were expected back at work on Tuesday.
Northern Ireland First minister at Cobra meeting
The news comes after Northern Ireland First Minister Arlene Foster said the UK should maintain a "common sense approach" to the coronavirus.
She was speaking in London after an emergency Cobra meeting.
The UK is remaining in the "containment" stage of its response to the coronavirus.
"The advice remains the same, if you have flu-like symptoms – stay at home and away from others," she said.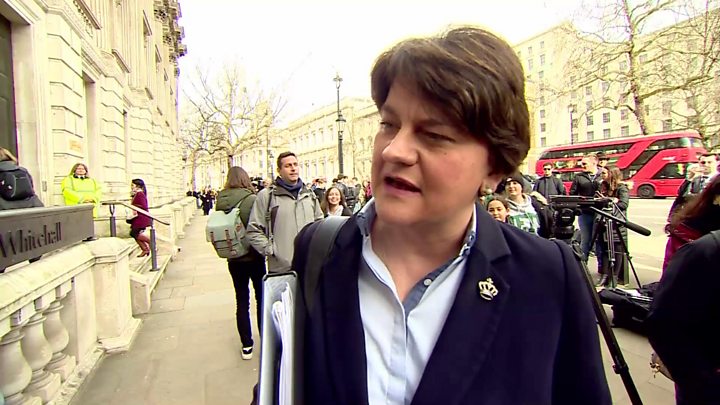 The Cobra meeting was called to decide whether to bring in measures to delay the spread of coronavirus in the UK.
Banning big events and closing schools were said to have been considered, but Downing Street said the prime minister "will be guided by the best scientific advice" but there was no need to cancel sporting events at this stage.
Three new cases were confirmed in Northern Ireland on Saturday.
They were adults who had recently travelled from Italy, which is at the centre of the European outbreak, and were linked to a previous case.
There were 319 confirmed cases in the UK as of 09:00 GMT on Monday, a rise of 46 since the same time on Sunday.
Real Life. Real News. Real Voices
Help us tell more of the stories that matter
Become a founding member
In the Republic of Ireland, the number of confirmed cases stands at 24 as of Monday evening.
For advice and the latest updates on the coronavirus outbreak, the Public Health Agency has a dedicated website.
Subscribe to the newsletter news
We hate SPAM and promise to keep your email address safe