Brexit
Northern Ireland Coronavirus: NI health service to access private sector beds
Image copyright Getty Images Northern Ireland's health service is to access all hospital beds across the private sector.In documents seen by BBC News NI the health board proposes to contract the use of the hospital sites for a period of "not less than 3 months". It's part of health authorities' surge planning for Covid-19. Meanwhile…
Northern Ireland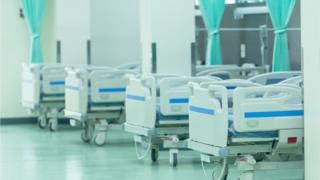 Northern Ireland's health service is to access all hospital beds across the private sector.
In documents seen by BBC News NI the health board proposes to contract the use of the hospital sites for a period of "not less than 3 months".
It's part of health authorities' surge planning for Covid-19.
Meanwhile health care staff are urging the government to test more workers as soon as possible.
In a statement the Department of Health (DoH) said officials are now working with the private sector to identify how the additional resources can be best used.
A public health emergency calls for dramatic and decisive action and with a shortage of hospital beds, equipment and staff likely in the coronavirus fight – the three major independent hospitals say they want to help and have offered their services.
The hospitals involved are the Ulster Independent Clinic, the Kingsbridge and North West Independent Hospital.
Negotiations are underway, but potentially it could mean around 100 additional beds, 12 operating theatres, 15 anaesthetising machines and over 400 staff.
BBC News NI understands that all have stated that they don't wish to make any profit but only to cover costs.
In a statement the Department of Health said: "Private sector hospitals in Northern Ireland have come forward to offer help to deal with the impact of the pandemic. The Health and Social Care Board is working with them to identify how these additional resources can be put to best use."
Talks between the independent sector and health board officials took place towards the end of last week. They were instigated by the independent sector.
Sources told BBC News NI that they urged the officials to formalise the arrangement as soon as possible so those in the independent sector can begin to plan ahead.
The sector is keen to be involved as it is aware of how much pressure health trusts are going to be under.
It's understood that negotiations stalled during the week as the health board wanted a fortnight to think about fees and contracts.
Dr George Cardiner, an intensive care consultant at Belfast City Hospital, told BBC NI's The Nolan Show the health service was in the "lull before the storm".
He said it may not take long for Northern Ireland's intensive care capacity to be exceeded.
He said: ""In the Belfast Trust, we have an intensive care unit in the City Hospital, in the Mater Hospital, in the Royal Victoria Hospital and cardiac intensive care.
"Within a couple of weeks of the virus really starting to show its presence, all of those units will be full."
Meanwhile there is growing concern among health care workers that not enough of them are being tested for the coronavirus.
In the Republic of Ireland 50 test centres have been set up. The largest centre is at Pairc Ui Chaoimh in Cork, will be able to test 1,000 people each day.
A spokesperson for the Department of Health in Northern Ireland said: "Following the Health Minister's announcement on Thursday that testing would be expanded as part of health service surge plans to deal with Covid-19, the number of tests carried out has increased.
"It is expected that testing capacity will be expanded to about 800 tests per day by the beginning of April. This will enable the HSC to test more frontline health and social care staff, ensuring that they can continue to deliver vital services."
Chief Medical Officer Michael McBride reiterated calls for people to practice social distancing.
He said: "There's no point any of us looking back in two weeks and thinking I wish we had done more.
"We need to take steps now."
In a letter to all GPs, Dr Alan Stout, chairman of the Northern Ireland GP Committee, said 'Covid centres' would soon be established in each health trust area.
They will be staffed by GPs and support staff to manage the "anticipated large numbers of patients requiring medical intervention".
Northern Ireland Economic support
On Monday, Economy Minister Diane Dodds called for the chancellor to announce support for self-employed people who have seen their incomes hit by the crisis.
Last week Rishi Sunak announced a £350bn lifeline for the economy and said the government would pay up to 80% of the wages of employees unable to work due to the pandemic.
Speaking on the BBC's Good Morning Ulster programme, Mrs Dodds said: "That is a hugely significant intervention in the economy at this time.
"But he has not gone the whole way and he has not addressed the issue of the self employed."
Real Life. Real News. Real Voices
Help us tell more of the stories that matter
Become a founding member
She said she had written to the Treasury about the issue.
Northern Ireland Secretary Brandon Lewis said the government would not be found wanting in support for people and businesses.
He said: "While we cannot guarantee that no-one will suffer hardship, we will do our utmost to support individuals, families and businesses."
Northern Ireland 'Absolutely crucial'
At a press conference on Sunday evening, Boris Johnson warned the public to take seriously the social distancing advice to stop the spread of coronavirus, saying it is "absolutely crucial".
According to the latest figures, there are more than 5,000 confirmed cases of coronavirus in the UK.
The number of people with coronavirus who have died is now 220 in England, seven in Scotland, five in Wales and two in Northern Ireland.
There have been four deaths in the Republic of Ireland.
Subscribe to the newsletter news
We hate SPAM and promise to keep your email address safe