Brexit
Northern Ireland Coronavirus: NI could see 3,000 deaths in 'first wave'
Image copyright Getty Images Image caption Some 180 patients are expected to need ventilation in 'first-wave' estimates Northern Ireland could see 3,000 deaths in a "first wave" of the coronavirus pandemic, officials have warned.Expert modelling has also indicated there could be second wave later in 2020 in the absence of a vaccine or sufficient population…
Northern Ireland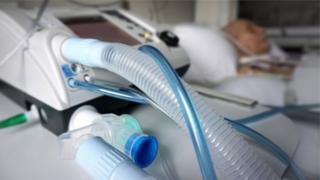 Northern Ireland could see 3,000 deaths in a "first wave" of the coronavirus pandemic, officials have warned.
Expert modelling has also indicated there could be second wave later in 2020 in the absence of a vaccine or sufficient population immunity.
Arlene Foster said the "sobering statistic" was "about 500 people short of the lives lost during the Troubles".
She also confirmed the Eikon exhibition centre was being considered as NI's "Nightingale Hospital".
The first minister was speaking at the daily press briefing, which also covered the controversial subject of personal protection equipment (PPE).
"Our healthcare workers are crying out for PPE, they're crying out for testing" said Deputy First Minister Michelle O'Neill.
She said the executive was pursuing every possible procurement route to source the equipment – and that the Chinese government had pledged to give support.
So far 30 people of 689 who have tested positive for Covid-19 in Northern Ireland have died.
The latest figures from the Republic of Ireland reveal a further 14 patients have died, bringing the total number of deaths there to 85.
In the UK, 2,352 people (out of nearly 30,000 who tested positive) are known to have died.
Northern Ireland Ventilators
The experts' model indicates the first wave will peak between 6 and 20 April.
Based on local data, the study sets out a "reasonable worst-case scenario", which assumes a two-thirds reduction in contacts due to social distancing and 70% of those with symptoms self-isolating.
Under these circumstances, the modelling suggests the peak hospital admissions would be around 500 per week.
It also indicates that 180 patients would need ventilation and 3,000 people would lose their lives during 20 weeks of the pandemic.
The authors of the modelling have said their work is for planning purposes and should not be viewed as a prediction.
The delivery of new ventilators will mean there are 165 available in Northern Ireland, up from 139 in March, the chief medical officer has said.
While he accepted the next few weeks would be "more challenging", Michael McBride said there was a further batch of ventilators expected from a UK allocation, while more had been ordered from a company in Galway.
Health Minister Robin Swann said earlier a further 650 units capable of providing respiratory support were being procured.
Northern Ireland Testing centre sites examined
Mr McBride said a memorandum of understanding was "imminent" to detail co-operation between health authorities in Northern Ireland and the Republic on how to deal with the pandemic.
This "reinforces and underpins the long-standing cooperation that we have had" and follows previous shared services in cardiac and cancer treatments, he added.
The health service "would have a realistic prospect of coping in this initial period if a sufficient proportion of the population adhere to the social distancing and self-isolation measures," Health Minister Robin Swann told the BBC.
He also said evidence showed an estimated two thirds of people in Northern Ireland were observing the rules over social distancing.
"Your actions today, tomorrow and your actions over the next few days can have a direct impact on the number of people that could actually die from Covid-19," Mr Swann told BBC Newsline.
In other developments:
An MoT test centre and Belfast's SSE Arena are to be re-purposed as coronavirus test centres, BBC News NI understands
The Housing Executive has asked about 5,000 private landlords if they can help provide emergency housing for people at risk of homelessness
PSNI has written to a number of officers eligible to retire this summer to ask if they would consider staying on "to help provide essential policing services".‬
Subscribe to the newsletter news
We hate SPAM and promise to keep your email address safe