Brexit
Northern Ireland Coronavirus: Hospitality industry losses 'in hundreds of thousands'
Image copyright Getty Images Image caption The postponement of the Ireland v Italy rugby match is a financial hit for pubs, says Colin Neill Northern Ireland pubs have lost hundreds of thousands of pounds while feeling the "pain" of the coronavirus crisis, an industry chief has claimed.Hospitality Ulster head Colin Neill warned the fear must…
Northern Ireland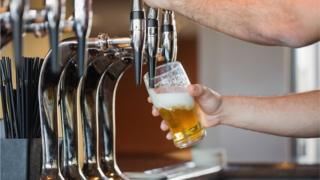 Northern Ireland pubs have lost hundreds of thousands of pounds while feeling the "pain" of the coronavirus crisis, an industry chief has claimed.
Hospitality Ulster head Colin Neill warned the fear must not "become bigger than the actual challenge".
He described the cancellation of one of Ireland's Six Nations rugby fixtures due to the virus as a blow to pubs.
There have been two confirmed cases of coronavirus on the island of Ireland, one on each side of the border.
The first person to test positive was a woman in Northern Ireland who had recently returned home from northern Italy.
The second was a male student who attends a Dublin secondary school that has since been closed for 14 days as part of the Republic's infection-control measures.
Although the name of the school has not been officially released, parents at Scoil Chaitríona in Glasnevin confirmed on social media it was their school.
The decision to call off Ireland's Six Nations match against Italy was also taken in an effort to prevent the spread of coronavirus. which can cause the severe lung disease Covid-19.
"Obviously, [the Six Nations] is a big draw into our pub sector," Mr Neill said.
"There is an economic impact there that we would estimate in the hundreds of thousands.
"But it's important to say to the industry: 'We have to take this virus seriously but not panic.'"
Mr Neill added that Hospitality Ulster had issued extra guidance to its members about hygiene, including sanitising surfaces like doors and handrails.
"We're very lucky in the UK – we already have very high hygiene standards because of regulation but we're reinforcing them," he said.
On Sunday, Tourism Ireland boss Niall Gibbons said he had "extremely serious" concerns over the potential effects of coronavirus on the tourism industry.
He said: "The coronavirus story has moved from its first chapter, which happened in China, into its second chapter now and our concern has moved from very serious to extremely serious."
Worldwide, there have been almost 90,000 confirmed cases of the disease.
The number of people who have died after being diagnosed with Covid-19 has exceeded 3,000.
The student who was the first coronavirus patient confirmed in the Republic of Ireland is being treated in a hospital in Dublin.
Both he and the woman who tested positive in Northern Ireland had travelled home from an affected area of Italy, where 11 towns have been on lockdown due to the virus.
On Friday, officials in Northern Ireland said everyone who had been in close contact with the woman had been contacted. and given advice.
The Republic of Ireland's Health Protection Surveillance Centre said it was continuing to trace anyone who may have been in close contact with the man diagnosed with coronavirus on Saturday.
It said it expected that work to be complete within 24 hours.
The NHS 111 advice helpline has replaced the PHA's coronavirus helpline in Northern Ireland.
In other developments:
Northern Ireland What do I need to know about the coronavirus?
Subscribe to the newsletter news
We hate SPAM and promise to keep your email address safe