Brexit
Northern Ireland Coronavirus: Hairdressers could open in NI within weeks
Image copyright Getty Images Image caption Hairdressers in Northern Ireland have been closed since the start of the pandemic in March Hairdressers, barbers and beauty salons will be able to reopen in Northern Ireland on 6 July, the executive has said.It is among a series of measures agreed by Stormont ministers to further ease the…
Northern Ireland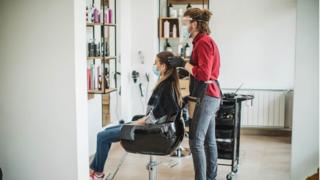 Hairdressers, barbers and beauty salons will be able to reopen in Northern Ireland on 6 July, the executive has said.
It is among a series of measures agreed by Stormont ministers to further ease the lockdown.
Deputy First Minister Michelle O'Neill said those businesses should now ensure they have safety measures in place.
Places of worship have been told they can provisionally reopen on a wider basis from 29 June.
So far, they have only been permitted to open for individual prayer or drive-in services.
The Stormont executive met on Thursday and announced a series of significant changes to the coronavirus regulations.
Among those changes was that a pause on shielding advice will take effect from 31 July, with letters due to arrive in the coming days.
Northern Ireland 'Pause on shielding'
Health Minister Robin Swann said from 31 July, subject to the rate of community transmission continuing to be low, people will no longer need to shield but should, instead, take particular care when out and about – and strictly maintain social distancing.
About 95,000 people in Northern Ireland received letters at the start of the pandemic advising them to self-isolate because of a health condition.
Speaking at the executive's press briefing, Ms O'Neill said she understood some would have "mixed emotions" about the changes to the guidance.
"We want to reassure all those people that you will be given advice and support to help you make that transition," she added.
First Minister Arlene Foster said Northern Ireland's R-number – which monitors the rate of infection of the virus – was between 0.6 and 0.9, which had allowed the executive to agree to lift a series of restrictions.
"It's important that when we can move we do, we spend a lot of time listening to the advice but it's right when we can lift them, we do," she added.
Northern Ireland What exactly did the executive announce?
On Thursday, ministers in Northern Ireland agreed:
Places of worship can reopen on a wider basis from 29 June, and ministers are seeking guidance on how weddings and funeral services can be conducted, as well as capacity issues and singing
Hairdressers, barbers and nail salons can reopen from 6 July
Shielding advice will be paused from 31 July
Justice Minister Naomi Long said the indicative dates came with a "health warning", and that if the rate of the virus increased, the dates would need to be pushed back.
In a separate announcement, the executive has also agreed that social distancing between children and young people can be reduced to 1m (just over 3ft) within the education sector.
This is the first significant change on social distancing within the UK's four devolved nations.
However, the current guidelines of 2m (6ft) social distancing will continue for adults.
In a letter to school principals, Education Minister Peter Weir said the 1m guidance between children is to be followed as far as possible within the confines of the physical capacity of each classroom, but using the guidance should allow full classes to attend.
Meanwhile speaking on The View on Thursday night, Arlene Foster said the executive would also be looking at the issue of social distancing in regards to the tourism sector, "because we've heard very clearly what the tourism sectors have to say to us in relation to that".
"We're looking at the fact that there are other countries in Europe that are either 1.5 or one metre," she said.
The executive has also agreed further changes to support childcare provision in Northern Ireland.
Currently, only vulnerable children and those of key workers can access childcare through schools, day care centres or childminders.
Northern Ireland Key worker definition to be scrapped
Mrs Foster said that from 1 July, the definition of a key worker would be removed in order to open up provision to many parents, as more sectors of the economy reopen.
With the exception of childminders, Mrs Foster said there are "no plans" to limit the capacity of who can be cared for from this date.
Childminders can currently provide care for three families, but this will increase to four families from 29 June and up to five in August.
Mrs Foster added that summer schemes for children aged between nine and 13 will go ahead on a "limited basis" over July and August.
Key workers' children will get priority for places.
The first and deputy first ministers added that the executive had agreed a business case to allow for the continuation of free school meal payments over the summer.
The government in England is to provide a voucher programme, following a campaign by footballer Marcus Rashford.
The families of almost 97,000 children in Northern Ireland have been receiving payments of £27 every fortnight per child, since schools were closed.
Ms O'Neill said the executive was committed to continuing the programme, estimated to cost up to £12m.
Northern Ireland The challenges facing hairdressers
Reopening of hairdressers can't come soon enough for customers of a hair salon in Newry, County Down.
Salon owner Claire Blackadder says her mobile phone started "hopping" with calls and texts from clients as soon as news broke that hairdressers might reopen from 6 July.
"My phone actually started to get hot," she told BBC News NI. "I had 56 messages within an hour."
Although clients are keen to get their lockdown locks tamed, Claire is "apprehensive" about the challenges that lie ahead for small businesses like hers and is taking no chances.
Northern Ireland Face coverings
She has spent more than £1,000 on new measures to keep customers safe, including new Perspex screens and sanitation equipment.
But social distancing means the number of chairs in her salon have been cut from five to just three.
Claire has asked all her regular clients to wear a face covering and bring their own towels to the salon.
She has introduced a new sanitation regime, but says cleaning down surfaces after every client will take staff an extra 15 minutes between each appointment.
Claire will also ask each customer to sign a declaration when they enter the salon, confirming that they do not have Covid-19 symptoms.
Should one of her clients subsequently fall ill with the virus, Claire says she will use that documentation to "track and trace" anyone else who was in the salon at the time.
Subscribe to the newsletter news
We hate SPAM and promise to keep your email address safe